A beautiful love journey to the alter – Tonie and Eak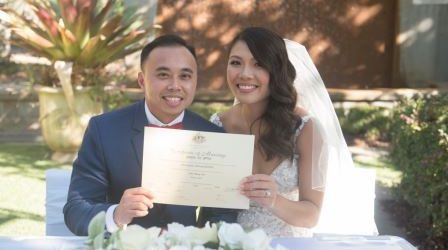 Love Journey to the alter…
Tonie and Eak: a love journey, a beautiful couple, a couple that you just know were destined for each other.
We were the fortunate ones as we had the opportunity to play a special part in their day, having chosen the Rotunda at Holroyd Gardens as their location for their Wedding Ceremony. Also, we will forever be grateful that they have been so willing to share their story with us! We hope you will enjoy reading their love journey to the alter…
Liaising with Tonie and Eak was a dream and everything just worked. This is now our chance to give back to such a friendly and warm couple.
The team here wish you both all the very best and a lifetime of happiness, joy, peace, good times and success. As you have already discovered and we hope will continue:
the best moments are celebrated together
the best experiences are created together
all difficulties, challenges and problems are always overcome and solved together
love always and more everyday
About Tonie and Eak – their special day
1. How we met:
In 2012, I was hosting my 23rd birthday party and was looking for a DJ for the night. While I was in the process of getting quotes from various DJ's, my best friend Maria had called me and recommended her friend Eak a.k.a DJ Sticky. I decided to contact Eak through Facebook and ended up booking him in. On the night of the party I approached Eak to introduce myself. This was the first time we met, but I had a feeling that I had hired the right person for the job. He played a killer set and did such a great job satisfying everyone's song requests. I was so happy with his work, that at one point in the night we shared a hug that would unexpectedly become a momentous memory in both our lives. Nothing eventuated from that night, but a month later I was on a night out with the girls and happened to bump into Eak at a club he was djing at. That night we both found out that we were "Gaginangs" (derived from a Chinese dialect Teo Chiew which means 'one of us') and from this we were instantly bonded with this commonality. This was the beginning of our one year LONG friendship. During this time I went with Eak to all his gigs and I remember having so much fun partying throughout the night with him. Within this time we grew closer and developed feelings for one another. A year later, on one of Sydney's hottest days (41 degrees) Eak gained the confidence to ask me out on a date and the rest as they say is history…
2. The proposal:
In 2016, we flew to Bali for a short get away. Eak had planned a private dinner at a restaurant in Uluwatu which was situated on top of a cliff, overlooking the sunset. Tea light candles lit up the board walk and rose petals were arranged in the shape of a heart around our table. At the beginning of the night, Eak had asked me to stand by the balustrade to take a photo with the sunset as a backdrop. He then suggested that I look out into the sunset, so he could try to take a candid shot of me. I went along with the idea, but I began to feel irritated when Eak was unable to work the camera. Little did I know that at this point in time, he was setting up the camera to record the proposal. As my patience was running low, I suddenly felt a tap on the back of my shoulder, I turned around to find Eak down on one knee. It was such a surprise, he completely caught me off guard.
3. About our day:
a) We chose the colour deep red/ burgundy because we wanted to add pops of colour to our wedding. The colour red also symbolises good luck in the Chinese culture. Another deciding factor was that red is Eak's favourite colour.
b) Wedding Suppliers:
i) Car hire – Crown Limousines
ii) Flowers – Sweet Event Styling By Thanh
iii) Brides Dress – LUV bridal: Storm
iv) Bridal party – Bridesmaids: Pilgrim Flower girls: Arabella and Rose
v) Grooms Suit – Rin My Tailor (Hoi An, Vietnam)
vi) Groomsmen suits- @Tarocash
vii) Invitations – @Vistaprint
viii) Brides Make up: Dazzling Make up (Kilyne Le)
Bridesmaid Make up: Beauty by Monc
Hair – @Honeycombed
viiii) Photographer and Videographer – @LightheartFilmandPhotography
ix) Celebrant – Darren Batten @areflectionofceremonies
4. Ceremony Venue
The events team at the Holroyd Centre in Merrylands arranged our entire Ceremony package from the chairs, to the celebrant and the additional styling.
Rotunda at @HolroydGardens, www.holroydgardens.com
Booking for the Rotunda @HolroydGardens are managed by the Events Team at the Holroyd Centre
You could be just like Tonie and Eak and begin your journey at the Rotunda in Holroyd Gardens.
It is really very simple, phone our events team on 8757 9090 or 9840 9900.